Antiques, Collectibles, Old and New, Toy Airplanes, Cars and Trucks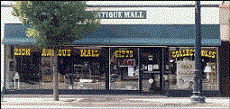 WELCOME
TO
Zion Antique Mall
The Place to Buy
"ANTIQUES, COLLECTIBLES, OLD AND NEW REPLICAS AND TOYS!"
We have been in the antique and collectible business in Zion, IL since 1987 (35 years), and we have been selling on this mobile friendly web site, and occasionally on eBay (as zionantiquemall), since 1999, with 357 Positive Feedbacks (100%) as of 1/1/2023. Our brick and mortar mall is approximately 8,500 sq. ft. on two levels. We display a wide variety of vintage furniture, jewelry, depression and carnival glass, china, pottery, toys, trains, figurines, books, vinyl records, prints, paintings, lithogtaphs, vintage DVD's, VHS tapes and much more, at very competitive prices. (Currently, 50% off almost everything). We're open 10:00 AM to 5:00 PM Tueaday through Saturday, 1:00 PM to 5:00 PM on Sunday and closed Monday. We're located at 2754 Sheridan Road in the Central Business District of Zion, Il. For out of towners, Zion is midway between Chicago and Milwaukee a mile from the shores of Lake Michigan and the Illinois Beach State Park.
Our brick and mortar building is currently for sale. We would like to devote full time to selling antiques and collectibles on this website (which has been badly neglected for some time), and other sites as time permits. So, if you, or you know anyone who might be interested in purchasing the building for investment income, or the building and the contents for a turn key business opportunity, please call us at 815-347-5712, during business hours for more information, or stop in for a personal tour. In the meantime it's still business as usual, with lots of bargains. Keep in mind we no longer accept credit or debit cards. It's cash only. So, stop in to our brick and mortar mall to see what's new when you have a chance. We're still buying good quality items and our markup is very low.
Click on the link at the top to see the online "Mall Items for Sale". Most orders received by 2:00 PM on weekdays ship the same day.
We accept PayPal online and Postal Money Order, Bank Check or Personal Check by mail. Paypal is a completely secure site for any online order placements, as most of you are already aware, but We only ship to USA destinations. See the Ordering Information page for complete details or call us at 1-815-347-5712 with any questions.
Satisfaction is guaranteed on everything we sell or your money will be cheerfully refunded and WE GUARANTEE YOUR PRIVACY! Your e-mail address will never be shared, sold or leased!
---