Zion Antique Mall and Toy Mart, A Brief History About Us
ZION ANTIQUE MALL & TOY MART
2754 Sheridan Road
Zion, IL 60099
815-347-5712
Established 1987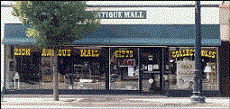 About Us!
We opened the Zion Antique Mall and Toy Mart in 1987. We carry a wide variety of antiques, collectibles and decorative furnishings and new and old toys, trains and dolls. When we first opened, the business was in much smaller quarters than it is today (approximately 750 Sq. Ft. vs over 8,500 sq. ft. today). We rented our first two locations until 1994, when we purchased the building we are currently using for the mall.
The business is a family owned business run by Don and Sharon Bourdeau on a full time basis and three adult children (Scott, Randy and Emily) on a part time basis as needed. After being open 7 hours per day from 10:00 AM until 5:00 PM for 30 years, and since we are both past 65 years of age, we decided it was time to take a break with somewhat reduced hours. So we're now open from 1:00 PM - 5:00 PM, 6 days a week (closed Mondays). We keep telling ourselves that we should retire, but keeping active keeps us young...
We continue looking forward to offering our customers very reasonable prices on everything we sell. So, if you're within driving distance of Zion, we would love to meet you and have you browse through all of the antiques and collectibles on display. If you can't make it in, check out this website occasionally to see what has been added. Thanks for visiting us.