Zion Antique Mall and Toy Mart, A Brief History About Us
ZION ANTIQUE MALL & TOY MART
2754 Sheridan Road
Zion, IL 60099
847-731-2060
Established 1987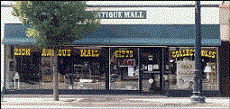 About Us!
We opened the mall in 1987 and carried a wide variety of antiques, collectibles and decorative furnishings. We also stocked many new die-cast toys.
Due to the changing economic conditions, with many customers preferring to purchase items online, we tried to retire from the brick and mortar mall in 2016 and concentrate our efforts on selling the antiques and collectibles on our website and on ebay. But, after 3 months in retirement, we missed the daily customer contacts we enjoyed over the nearly 30 years we were in business, and since we were still in good health, we decided to reopen the mall at somewhat reduced hours.
We continue looking forward to offering our customers the lowest prices possible, in the mall, as well as on our website, for as long as we are able to do so.