Zion Antique Mall, Zion, IL, A Brief History Of The Business
ZION ANTIQUE MALL
2754 Sheridan Road
Zion, IL 60099
815-347-5712
Established 1987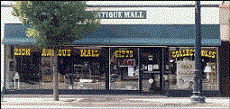 About Us!
We opened the Zion Antique Mall in 1987 and sold a wide variety of antiques, collectibles and decorative furnishings.
Effective January 1, 2019 the mall was closed and we semi-retired after 32 successful years in Zion. We are currently concentrating on selling our antiques and collectibles on this website and on eBay auctions as zionantiquemall.
For a period of time after January 1, we will be working inside the mall organizing things for future auctions. The public is welcome to come in and look around while we are working and purchase any merchandise, display cases, shelving and racks if they are not already up for auction. Please keep in mind we no longer accept credit or debit cards. We will accept cash only.
We will attempt to be at the mall during the hours of 1-5, daily, but we recommend calling us at 1-815-347-5712 if you are not local to make sure we will be working that day or to make an appointment for a different time.
We are looking forward to be actively selling our items on eBay and the website over the coming weeks and months. We hope you will check us out periodically at both venues. Thank you.