Zion Antique Mall, Zion, IL, A Brief History Of The Business
ZION ANTIQUE MALL
2754 Sheridan Road
Zion, IL 60099
815-347-5712
Established 1987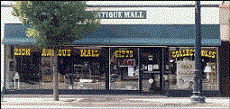 About Us!
We opened the Zion Antique Mall in 1987 and sell a wide variety of antiques, collectibles and decorative furnishings.
On January 1, 2019 we semi-retired after 32 successful years in Zion to devote more time listing items on this website and on eBay.
Our brick and mortar mall is currently open from 1-5 daily (closed Monday). We have a nice assortment of antiques, collectibles, toys (old and new), vintage household items and furniture in the mall, at very reasonable prices. So, if you have an opportunity to do so, please stop in and check out all of the bargains available. Otherwise you can follow us on eBay under the seller name zionantiquemall or check back on this website occasionally to see what has been added.
Looking for something special? Let us know. If we have it we will list it on the website ASAP. Thank you and have a great year!.